VINTED: Episode 20
Winery Spotlight: Terlato Wines International on Modern Marketing, Legacy, and Fine Wine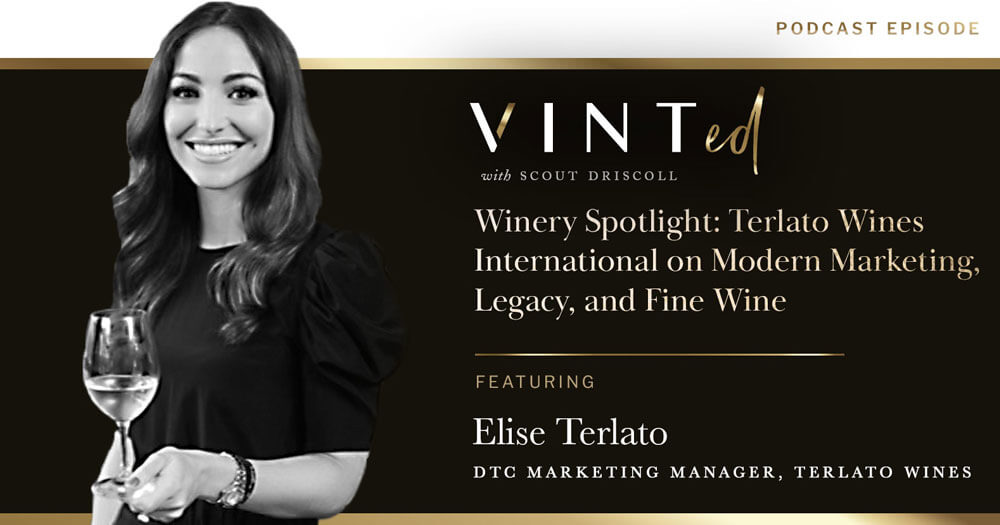 For more than 50 years, Terlato Wines International has been influential in the wine and spirits industry. They introduced Pinot Grigio to America, revolutionized different varietals, and became a well-loved legacy brand. But they've never stopped looking for the next best thing for consumers across the globe, which is why they've grown year after year. 
According to Elise Terlato, much of the brand's success comes from the ability to adapt, utilize cutting-edge technologies, and meet the consumer where they are. The digital world will only continue to expand, so it's crucial that wineries — including legacy brands — learn how to navigate this space and build their online presence. So if you're a brand that wants to embrace digital and reach a wider audience, what does Elise recommend? 
In this episode of VINTed, Scout Driscoll is in conversation with Elise Terlato, DTC Marketing Manager at Terlato Wines International, to talk about legacy brands, marketing to the modern consumer, and getting involved in the digital world. Elise shares how Terlato is elevating and partnering with other brands, their strategies for connecting with younger consumers, and their mission to promote sustainability through their wineries and vineyards.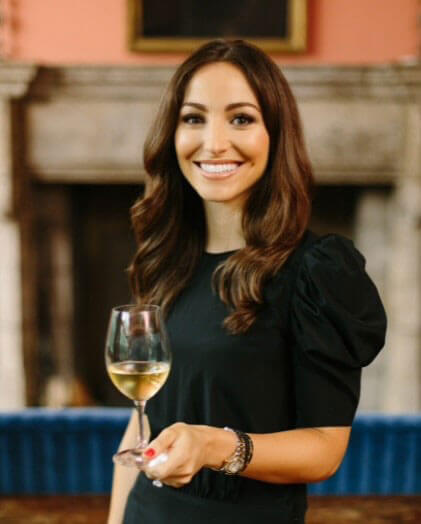 This Episode's Featured Guest
Elisabeth (Elise) C. Terlato has worked in the wine industry for five years now, joining the family's company in October of 2018 as the Associate Marketing Manager. In this role, she was responsible for marketing and managing Terlato Wines International's Estate Division portfolio of brands, including Terlato Vineyards, M. Chapoutier, Mathilde Chapoutier, Domaine Terlato & Chapoutier, and Anselmi. Elise is the fourth generation to be involved in the family business, along with her sister, Jo, and brother, Tony. In 2020, Elise was promoted to Digital Marketing Manager, responsible for managing and growing the DTC business through e-commerce, social media, and various other digital platforms. In 2021, she spearheaded and managed two large-scale projects: the renovation and launch of Terlato.com and the Uncorked.com websites. In 2022, Elise advanced to Marketing Manager for Terlato's Direct-to-Consumer (DTC) side of the business. In this role, she is responsible for all direct marketing from family wineries, which includes increasing, creating, and analyzing promotions and programs to drive the Terlato Wine Group's (TWG) e-commerce business, assisting in all electronic and physical communications (including newsletters and websites), managing and executing content, driving business to websites, and managing all loyalty and club programming.
"A lot of people are only buying online now. They're not walking into a store or having to deal with other salespeople. So, I think the most important thing to really know as you're doing this is to continue to understand who you are — especially for those luxury, legacy brands — and what can you do for people that someone else can't?"
Prior to joining Terlato, Elise worked at Foote, Cone & Belding (FCB) Global Chicago for three and a half years, where she progressed from an Assistant Account Executive to Account Executive. At FCB, she managed clients such as Choose Chicago, Bioverativ, and Johnson & Johnson. Additionally, she produced advertisements for high-profile brands such as Mazzoni and Adelphi scotch whisky, which were published in national beverage publications including Wine Spectator, Wine & Spirits, and The Tasting Panel. Elise also has experience working at Modern Luxury Publications in their marketing department.
During her internships at the Il Poggione and GAJA wineries in the Tuscan and Piedmont regions of Italy, Elise studied the retail and production sides of the wine industry. She holds a bachelor's degree from Florida's University of Miami and is continuing her wine education with a WSET II (Wine & Spirits Education Trust) certificate and diploma in Wine Management and Gastronomy from Le Cordon Bleu in London.
Here's a Glimpse of What You'll Learn
Key Episode Takeaways
Elise Terlato describes the legacy of Terlato Wines International and her current role as DTC Marketing Manager 
The story of how Terlato introduced Pinot Grigio to America
How can you expand your brand through influencer marketing and partnerships?
Why digital marketing is important for legacy brands
Elise talks about the different brands Terlato manages
How Terlato is focused on sustainability and strives to leave the land better than they found it
Elise's advice for connecting with younger consumers
Why persistence is key at any stage of your business
Resources Mentioned in This Episode
Sponsor for this episode…
This episode is brought to you by VINT wine branding and design, where rich storytelling meets smart design.
At VINT, our studio goes beyond the label, guiding wine brands through strategic branding and packaging evolutions. Our work with Cooper's Hawk has helped them grow the nation's largest wine club to over 450,000+ members. Some of our favorite label designs have included Cooper's Hawk collaborations with winemakers like John Charles Boisset, Ernie Loosen, and Francis Ford Coppola.
What makes VINT unique is our zero ego, Midwestern work style, our all-woman team, and our 20 years of experience in consumer brands across industries.
Learn more about VINT at Vint.Studio.
For a free label audit for your brand, email us at hello@vint.studio.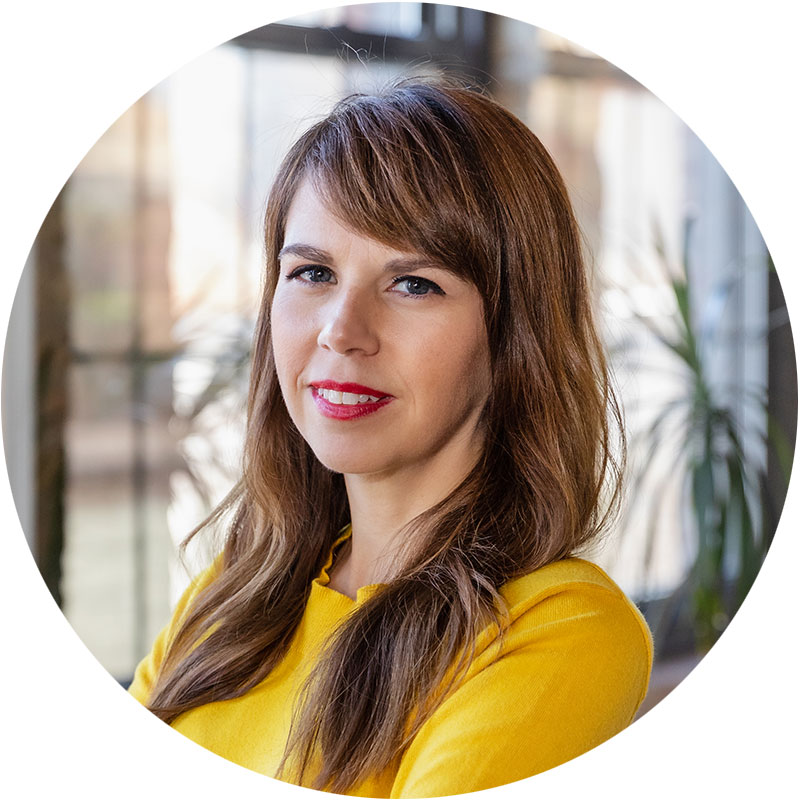 Meet VINTed Host Scout Driscoll
Founder and CEO of VINT STUDIO
Scout Driscoll is the Founder and CEO of VINT, a company that provides award-winning design and strategic branding for businesses in the wine industry. Through the art of visual storytelling, VINT's all-women team empowers brands of all sizes. Scout is also the Founder and CEO of DesignScout, VINT's parent company. DesignScout has been building authentic and honest brands with nearly 20 years of branding experience.
Follow Scout on LinkedIn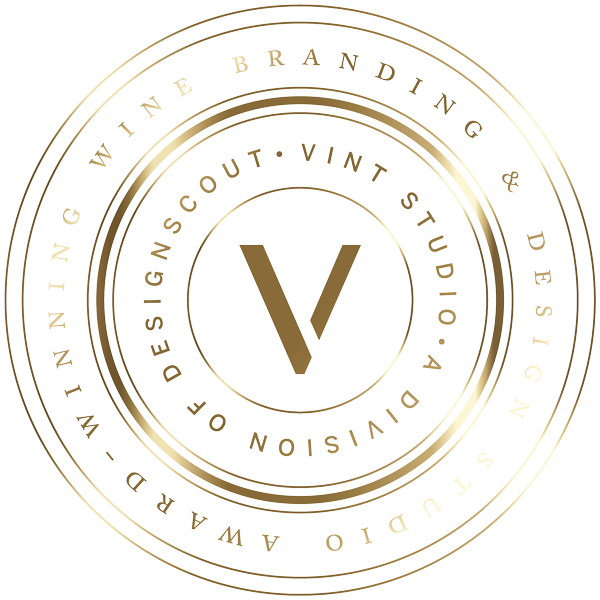 We're here to help
As the design studio behind the nation's largest wine club, VINT can help you bring your winery's lifestyle brand to life. Our dedicated brand strategist and power house, all-woman team of designers is available to help you define what lifestyle means for you and your customers. Contact us today.
Sign up for a free strategy call.